Christine – Telephone Befriender
"I spend a few hours a week in the office and try to ring as many people as I can. Each one is different, I could be chatting about their lives and family or maybe hearing about their illnesses or problems. The people I speak to are varied and have different needs. Some want to talk about their health, some need advice and others are just lonely and need someone to chat to. Whatever the reason, I am there to help and over the years I have made many friends, who have told me how much they look forward to my weekly call. I love going into the office, I work with a superb friendly team and it feels like one big happy family. I find befriending very rewarding as I feel I am helping so many different people just by listening and being a friend on the other end of the phone."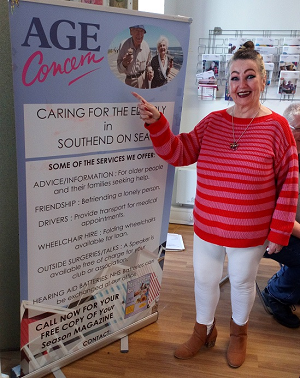 Susie – Community Club Member
Age concern have lots of events throughout the year and they keep in touch to let me know what's happening. I have been to some lovely afternoon teas and I really enjoy the Open Days and Craft Fayre's at The Haven.
For the last couple of years I have been lucky enough to go to their free Christmas Day Lunch for older people who would otherwise be alone. What an amazing day that is. I don't know how they manage to cater for and entertain so many people. The staff and volunteers to a marvelous job. A delicious hot Christmas dinner with plenty of fun company and gifts for all at the end. I feel so lucky to be part of it.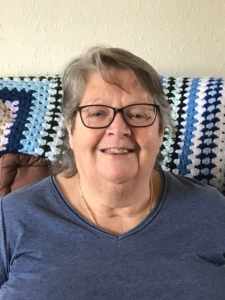 Jeannie – Club 50+ Member
I am 76 and spent most of my life in Wales. I moved to the Southend area 3 years ago after losing my husband. We had many family holidays in this area and it was always our dream to settle here permanently one day. I took the plunge and moved anyway but I was quite lonely at first.
I have always been a believer in getting out there and doing something so I joined the Hub. I loved it there and soon I was popping along most days to join in with the activity classes. I learned that Age Concern provided other services, not just the club. The team are a great bunch and always there to support and help any of us who are feeling a little lonely.
I was really excited to hear about the opening of The Haven Older Peoples Community Hub and couldn't wait to see all the facilities in this new larger building. Once it was open, as well as visiting Club 50+ I could have a cup of tea at the cafe and visit the foot care specialist First 4 Feet. Best of all are the monthly events and I had a grand time at the barn Dance.
Recently of course, everything had to close while we all isolated due to covid-19. I miss everyone so much and I can't wait for it to open again. I have been keeping in touch with some friends by phone and trying to cheer up those who were more high risk than me. I am thinking of signing up as a volunteer telephone befriender. It would be a great way to give something back to Age Concern after all the help and care they have shown me.