Assure Link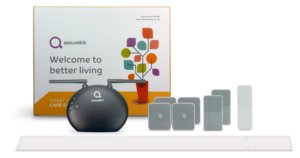 If you have a friend or family member living alone, it's natural to want to be sure they are safe. This smart home care system links you straight to the people you care about via discreet wireless sensors that monitor activity throughout the home.
The kit has motion sensors, door and temperature sensors and a bed pads to build up an accurate picture of movement in the home. If the app detects a change in the normal living pattern it will send a notification to your phone so that you can check your loved one is ok.
Find out more here https://assurelink.co.uk/ and when you are ready to buy, please mention ACSOS in the code section at check out, which will allow Assurelink to make a kind donation to Age Concern Southend on Sea without it costing you a penny more.
Personal Alarm Watch
Did you know that 48% of falls happen outside the home? These stylish alarm watches work wherever you are, perfect for older people where the fear of a fall prevents independence outside the home.
There is a 24/7 call centre to help with medical assistance or to contact a friend or family member at the bush of a button anywhere in the UK.
Find out more here www.personalalarmwatch.co.uk and when you are ready to buy please mention Age Concern Southend at the checkout. Personal Alarm Watch will pay ACSOS £40 for each referral after they have used the service for three months.
Home and Car Insurance

We have teamed up with Good Retirement to offer simple to understand and no frills car and home insurance. Good Retirement's 'Value for Good' puts you first to deliver insurances that will work for you.
https://goodretirement.org/aviva-car-insurance
https://goodretirement.org/aviva-home-insurance/
Good Retirement is committed to make donations and distribute surplus funds to Age Concern Southend-on-Sea, to help and support older people in Southend